Let's get this shit cracking. For my 1st post, am posting these Albums that I personally ripped them myself with EAC/LAME encoder, that means that these are HIGH quality. For those of you that don't know what that is, check it these articles on
EAC
and
LAME
. If you are interested in downloading the software get at them right here
http://www.exactaudiocopy.de/
http://lame.sourceforge.net/index.php
But on with the albums. Ready to Die and Life After Death, The Notorious B.I.G.'s classic albums. No doubt Ready To Die is a Classic album and should be in possession of any Hip-Hop head. Frank White lyrically weaved tales of the street life. Robbery, sex, alcohol, drugs and everything from Big Poppa's environment.
B.I.G.'s second album shifted focus from the street life to a more Mafioso demeanor. The album was a HUGE commercial success , going Diamond, only to be later surpassed by Outkast's Speakerboxxx/Lovebelow.
I also included the DVD that came along with the special edition Remaster of Ready To Die
Enjoy !

Ready to Die
Part One
Part Two

DVD
Part One
Part Two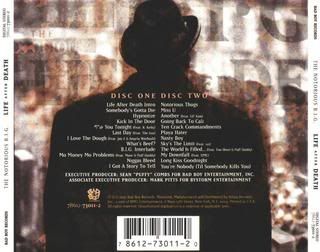 Life After Death [2 CD]
Part One
Part Two